Filter by Category
College NEXT
VIRTUAL College Next
with Peg Junge

Next available session starts Jan 27, 2021 at 9 am
1 additional session
Prepare for all aspects of attending college during this 13 week distance learning course.  Topics include financial aid, study skills, career exploration, time management, navigating college, technology skills, and more.  This course has weekly Zoom classes and uses Brightspace, an online learning platform, for all assignments, discussions and quizzes.  Students completing this course are well prepared for the college experience and earn 3 college credits through University of Maine at Augusta.
If you are also interested in help with English or Math, please consider the following courses:
Mathematics for College – Part I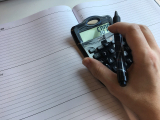 Remote: Mathematics for College - Part II
with Peg Junge

Next available session starts Feb 3, 2021 at 3 pm
1 additional session on Mar 25, 2021
Prepare for the Next Gen Accuplacer test in Quantitative Reasoning, Algebra and Statistics (QRAS) during this twelve week distance learning course.  Class is held weekly on Zoom and students will use Brightspace to access assignments and quizzes.  Topics include proportions, exponents, algebraic expressions, linear equations, statistics, probability and geometric concepts.  Students entering this course should be fluent in basic math operations (add, subtract, multiply and divide) and have confidence working with fractions.  Accuplacer QRAS testing is provided for students (at no cost) during the last class.
Remote: English for College
with Brenda Hio-Hamdan

Next available session starts Feb 4, 2021 at 1:30 pm
This distance learning course will prepare you to take the Next-Generation Accuplacer Test in Reading and Writing and teach you the skills you need for college-level English classes. You'll learn reading strategies for understanding challenging texts, increase your vocabulary, and improve your grammar and writing skills through exercises, short writing assignments, and an argumentative essay. All classes are held on Zoom. There will be opportunities for sharing and small group work. The Accuplacer Reading and Writing Test is provided for students at no cost during the last class.