Filter by Category
Digital Literacy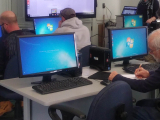 Digital Learning Lab
with Rob Verbsky

Current session started Sep 5, 2023 at 12 pm
Looking to improve your digital skills for work or school? Whether you want to learn new things for your current job or you're looking to do something completely different, we can help you navigate the digital landscape to find, access, and/or complete your computer goals. This is a drop-in program for all skill levels. Our staff will assist you with your individual needs and help you find additional resources.
All skill levels are welcome to utilize the learning lab. Bring your own device or use one of our PCs.
Some examples of ways that we can help:
Building basic computer skills for work, school, or to help you manage your child's computer access.
Improving skills in online research, protecting personal information online, and adapting to new online tools for shopping, personal care, and financial literacy.
Online Job Search Skills, including online search techniques and how to apply for jobs online.
Brushing up on industry standard digital tools and software, like GSuite and Microsoft Office.
Asking specific questions regarding your individual needs.
Note: Many learning goals can be achieved at no cost, but some may require a fee to access specific materials.
Digital Literacy Lab: Drop-In Tech Support
with Rob Verbsky

Current session started Nov 6, 2023 at 4:30 pm

, runs for 6 weeks
Get individual support for using your tech devices, or take an online course from our menu of options to gain a certificate. We can also help you set up a new computer, smartphone, or tablet. We'll work with you to troubleshoot your issues and provide the personalized support you need.
You are welcome to use our laptops or desktops in the computer lab. You may also bring your own device, but be sure to bring the power cord too.
This class is offered free of charge to adults in our community through grant funding provided by Coastal Maine Regional Broadband, a partner of Maine Connectivity Authority.